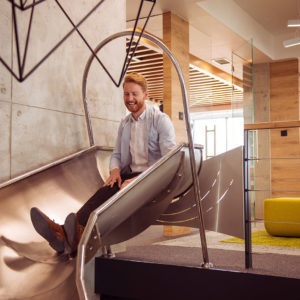 Start reading about flexible structures in the office here: The new office – workplace and second home (part 1)
Thomas Weitershagen
Thomas Weitershagen is an architect. 'Touching spaces' have been his subject for more than 25 years – designing buildings, rooms and premises in such a way that they bring people vitality and allow them to unfurl their full potential. He makes his philosophy on 'Touching spaces' accessible to many people in his talks and as a lecturer. Since 2012, he has been focused on 'Touching workspaces', the holistic and interdisciplinary development of better working areas.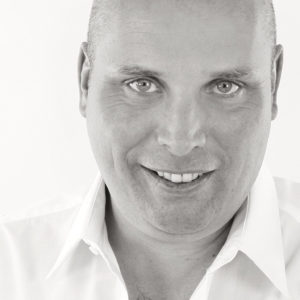 What is the perfect environment for you to feel good at work and achieve satisfactory results?
Thomas Weitershagen: The space in which we work should be like fertile ground on which fruit can thrive. But how often do we find ourselves exposed to working worlds that feel as if they were designed by checklist? The space has to generate atmosphere. This atmosphere gives me special experiences, it inspires; the atmosphere should touch me. Imagine all the things that spaces in which you feel welcome and embraced could create. Atmosphere is created by three things: the space, the people and the interaction. That is why I often talk about interaction spaces. These are spaces that give us a feeling of security, which we have an effect on together and can express ourselves individually in the process. A smart person once said to me: 'We underestimate the effect of rooms on our thinking.' I say: 'We underestimate the effect of the atmosphere on our thinking.' That includes the room, but does not view it in isolation. I like to work with other design disciplines under one roof.
I love work environments that are 'open houses' reminiscent of coffee house culture.
This atmosphere creates an ambience that promotes the development of concepts and ideas. There are dedicated areas for all kinds of activities. I always have the option of working while sitting, standing or lying. Furthermore, an experimental space is provided: a place of spontaneous interaction that can take place in different ways. But for me there still needs to be my own small work area. A central locker for valuables and personal items doesn't cut it.
The ideal office is not just about appearances. So what are the basic factors to ensure employees look forward to the working week on Monday morning?
Thomas Weitershagen: The place of work needs to be a professional home, but I don't mean a home office by that. Unfortunately, however, this aspect is neglected increasingly often. Space is one of the most important framework conditions for functioning companies. Space has an effect. Winston Churchill said: 'We shape our buildings; thereafter they shape us.' I would argue that designing better work atmospheres is one of the smartest investments you can make in a company.
'We underestimate the effect of the atmosphere on our thinking.'
What are the absolute killers that inadvertently or subconsciously still influence office life today?
Thomas Weitershagen: It is about atmosphere, which is generated by the context of the space, the individuals and their interactions. No powerful cooperation or collaboration is going to take place in an artificial, clinical or distanced atmosphere. To tackle today's issues, we need all people's creative power.
There seems to be a clear divide at the moment between very thoughtful and industrious companies and others who pay no heed at all to the concept of 'Better surroundings = more satisfied employees = better work'.
Thomas Weitershagen: The trend towards 'better thinking' exists. Its rise may be slow, but based on my experience and discussions with companies, entrepreneurs and HR managers, it seems awareness has grown and grown over the last ten years. I am currently developing a concept together with an interdisciplinary team with which we want to offer companies holistic support. In that context, we would be acting as coaches.
Generally speaking, what has noticeably improved in recent years? If a general answer is at all possible.
Thomas Weitershagen: Most companies are still characterised by risk avoidance rather than aspiration to experiment. They continue to act in the traditional hierarchical and functional way, far removed from a desire for innovation. For the most part, the individual employees do not feel they make a valuable and positive contribution. But there are also more and more companies who are putting people back at the core of what they do, the 'human-centered approach'. The employee is valued.
Those who think Work 4.0 will be better and thus less stressful are mistaken.
The flood of information and diversity of work are increasing. We are distracted by permanent availability and mobility. Many major companies have taken on a pioneering role in this context – SAP, Fraport, Thyssenkrupp and Siemens, to name just a few. There, accrued overtime is balanced out by longer paid breaks. There is comprehensive in-house health care with individual consultations. Health management starts in the planning phase, for example in the careful selection of materials. The natural material wood plays a decisive role in my concepts – untreated and in its pure, native form. Domestic wood not only represents cosiness and warmth, it is also nice to touch and has a pleasant aroma. It has been discovered that a proportion of 50% wood in a room is enough to have a demonstrable effect on health. My experience has shown that as a tangible material, wood is the perfect compensation for an environment increasingly shaped by digitisation and mechanisation.
'We shape our buildings; thereafter they shape us.' - Winston Churchill #jobwizards https://km.social/2ATzTRZ
Can you think of recent positive examples?
Thomas Weitershagen: I have given a lot of consideration to the traditional segment of purely office work environments. Nothing there has 100% convinced or touched me yet. Concepts that promote interaction between a wide variety of disciplines are the future. I am convinced that interdisciplinary work and cooperation is the booster for innovation.
The radio station KEXP connects people through music.
I have discovered one such example in the USA. When I first saw the images I was initially stunned, and then I smiled. The well-known public radio station KEXP is located in Seattle. The entire complex is more than 2,000 square metres in size. People are connected through the subject of music there. The building, designed by SkB Architects, has a music library with over 50,000 albums, live performance rooms, a wide variety of work stations, a library, DJ booths, meeting rooms that can be booked and a public cafe. Several worlds come together there: working, co-working, events and gastronomy. Spaces with a touching quality and an atmosphere that welcomes everyone. Spaces of experience in which you feel involved and integrated, with sincerity and a perfect feeling of the 'right fit'.
Not everyone has the golden touch when it comes to strategy and implementation. From experience, what are the pitfalls that cause a project not to take hold in the day-to-day experience of a company despite the goodwill of all involved?
Thomas Weitershagen: You have to differentiate between the young and agile company that is just leaving the start-up phase and the major firm with a history going back 100 years. In addition, the sector plays a decisive role. A company driven by technology and design will master a comprehensive transformation more easily and more as a matter of course than a large, sluggish insurance company, for example. The younger company is allowed to think more radically. In doing so, it can create identity, and thus find and keep suitable employees. A large company with a base of long-standing employees has to approach the topics of change and transformation with a great deal of tact and intuition.
At large and established companies there is already a corporate culture and DNA, a story going back many years.
Older employees identify with that. You have to take small steps and take people along with you. They are increasingly confronted with modern technologies that they have to deal with. It is inevitable that too much will be asked of them and ultimately they will fail. In this context, I have relied for years on interdisciplinary teams, with organisational developers and coaches, so that people within the company take on the role of designers.
Where are we headed? How will we work in future? In the short and long term.
Thomas Weitershagen: 'Sex has to be very good indeed to match up to comparison with this new kind of work,' predicts Frithjof Bergmann, philosopher and founder of the New Work movement, the future of our work. I am no futurologist, but one thing seems certain to me: the world is currently breaking free from old work. Traditional work locations, such as the desk and conveyor belt, will undergo sustained changes. Virtual reality will fundamentally change the design process of architects and designers and revolutionise the way spaces and work are experienced.
Imagineering, the ability to shape the imagination and make it visible, will become increasingly important. Human–machine interaction will present us with new requirements. Creating touching spatial atmospheres at the same time is the biggest challenge for me. Individual work will increasingly shape our everyday. Collaborative work has already been made possible everywhere through technical innovations. Traditional offices are more and more only used for networking and meetings.