Cybersecurity has increased in significance for employers and employees in light of the current pandemic: it is not only working from home that requires new and improved information security; the subject of safety in the workplace needs to be more firmly anchored in all corporate cultures overall.
According to a report by the World Economic Forum, cyberattacks feature among the top-five biggest threats of 2020. Whether camera systems, multifunction printers – MFPs for short – or emails: there are various gateways for cyberattacks.
Cybersecurity, burglary protection, a thoroughly safe workplace and responsible health protection are therefore already topical and crucial themes.
Cybersecurity for the office and home – with the 360-degree security concept
As shown in the illustration, Konica Minolta offers small and medium-sized businesses a complete package when it comes to safety and cybersecurity – comprehensive information security and cybersecurity with all effective technology measures from a single source. IT security, printer device security and video security are core elements.
The focus is on top-rate individual advice and, based on this, tailored safety solutions to ensure that each office and workplace is ideally protected.
With the support of Konica Minolta, employers and employees achieve precisely the IT security and digital and physical safety solutions they need to be well-positioned and secure for the future.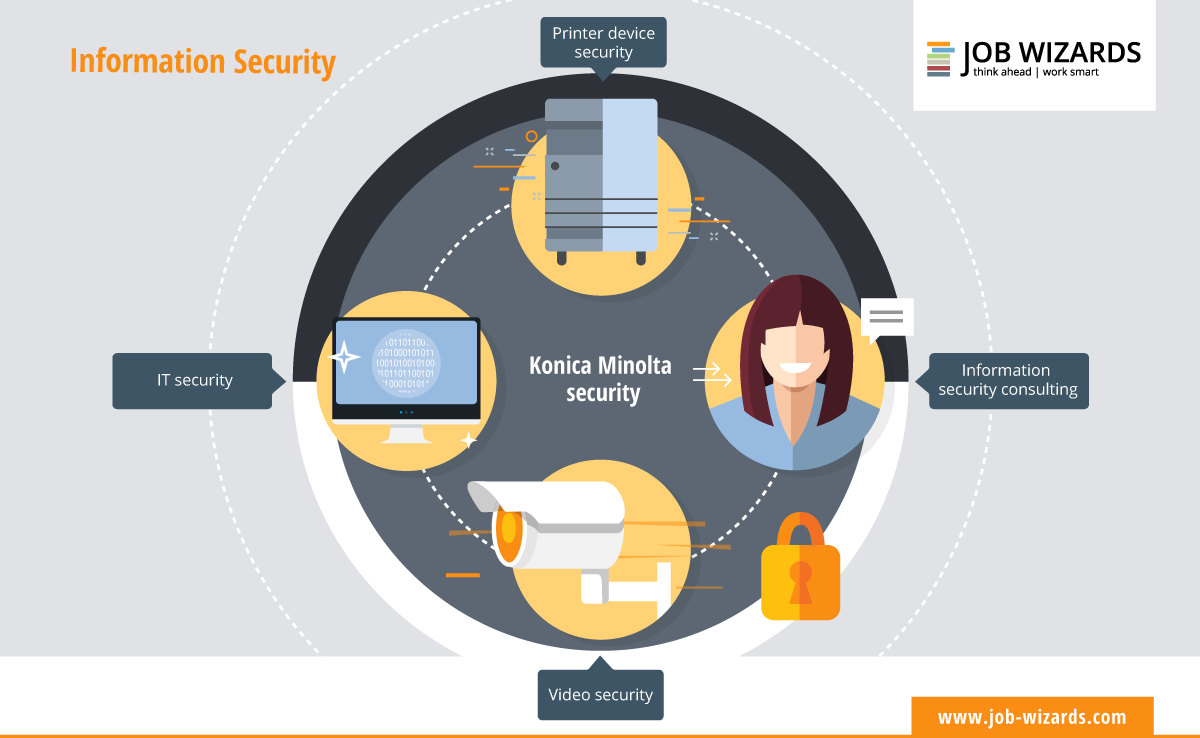 Securely manage businesses to optimally fend off cyberattacks
With the current COVID-19 pandemic, the number of employees working from home has risen rapidly. According to data from international consultancy IDC, most companies cannot however ensure remote access via a VPN, which offers a safe and encrypted connection to the internal company network – this therefore presents a perfect environment for attacks by hackers. But what can be done to reduce this risk and provide more cybersecurity? Does your company already have the right measures in place to manage this kind of situation?
If not, Konica Minolta provides a safe solution including VPN: Workplace Hub – an IT platform that is primarily aimed at companies who do not have the large budget necessary for data centres or their own high-level IT infrastructure. Workplace Hub includes cybersecurity services such as a firewall, and small businesses in particular benefit from a safe VPN, which is also important with regard to working from home.
Companies can migrate their IT infrastructure to Workplace Hub and also prepare it for the cloud at the same time. Thus, each employee or employer can access the full IT infrastructure while working from home or when on the move as if they were at work. At the same time, the safety of your company's network is assured. Hard to imagine? You can read interesting success stories here.
Know-how: systematically eradicate and firm up virtual weak spots
'When it comes to important hygiene regulations or external parties in the company, most people have a natural feel for security in the reaAh momel world,' says Yoann Fortini, IT Services Go-To-Market Senior Manager at Konica Minolta Business Solutions Europe GmbH. 'But if people are online, their caution is reduced. And this despite the fact that the primary target for cyberattacks is always the end user – the people, employees and employers.'
Security experts know that on average, companies only notice that they have been the victim of an attack after around one hundred days. This is why it is important to establish so-called incident response processes. With an analysis of weak spots and penetration tests, Konica Minolta also supports small and large businesses in safeguarding data and information by exposing cybersecurity loopholes in a targeted manner and closing them with the appropriate security measures. This not only includes technological measures, but also training sessions in which colleagues and employees receive targeted training on possible attack points and proper conduct.
Another important consideration in a holistic safety approach: because of their connection to the network, MFPs in the workplace are also potential gateways for cyberattacks. With leading antivirus solution BitDefender, the bizhub i series therefore offers comprehensive cybersecurity for your safe network.
Top virus protection solution BitDefender – embedded in the firmware – monitors all scanned files and transferred documents in real time, recognises viruses and malware, and sends a warning immediately. Manual scanning is thus enabled while at the same time preventing the spread of viruses to other PCs and servers.
... the primary target for cyberattacks is always the end user – the people, employees and employers.
Physical security: burglary and fire protection for a safe workplace
But it is not only virtual dangers that pose a threat to important corporate values or employees and employers. Physical dangers and crimes such as a break-in, vandalism or even a fire, and the approach to these, are risks that should without question be integrated into any workplace safety concept in the form of burglary and fire protection measures.
Intelligent MOBOTIX thermal cameras, for example, use thermal-imagining technology to make a significant contribution to early fire detection and fire protection. They recognise fires or overheated machines in the production area early and automatically trigger an alarm.
All buildings, offices and the outside area of your business also require burglary protection and should be well secured. Intelligent cameras also make a significant contribution to perimeter protection – the technical term for the protection of a building's or facility's surroundings. You can find examples of success stories here.
Health protection during the corona pandemic: playing it safe with cameras
Especially during the current COVID-19 pandemic, intelligent cameras can contribute to the health and health safety of all employers and employees – or protect sensitive places such as stations, airports or other highly frequented public areas. 
For example, they use body temperature measurement to recognise people with raised body temperatures and are thus able to indicate the signs of a possible COVID-19 infection early and thereby protect the health of other employees. 
Another possible application in terms of health protection is the question of whether all the safety and distancing rules are being adhered to. MOBOTIX cameras can inspect crowds of people (-> Detect Overcrowding) and check that face masks are being worn (-> Mask Detection).
Ready for anything: with crisis-proof back-up management
Risks such as fires, earthquakes, cyberattacks or break-ins are real: and if something actually happens no one can prevent and data suddenly disappears, it is extremely important to recover them quickly.
The back-up and recovery services from Konica Minolta ensure that company data are not irretrievably lost and can be recovered.
Whether working from home or in the office: security is crucial everywhere. Especially in times of global uncertainty with cyberattacks and COVID-19 #jobwizards https://km.social/3sKvgoR
Tips for a good security culture within your company
In order to ensure a holistic safety approach in the workplace, it is important to firmly anchor a security culture into corporate culture and not just treat it as a side issue. Companies need to be aware of how critical the subject of safety and especially cybersecurity can be for their business continuity and employees. This is why they must be prepared for crises, risks, crimes and threats of all kinds – because it is here that we see how vulnerable we really are. Ultimately, safety should be seen as an opportunity and a business enabler. In an IDC expert interview with Yoann Fortini, you can find tips about how to anchor cybersecurity and a safe workplace in your corporate culture.