An insurance company defines itself as a learning organisation
The Axa Group, an insurance company active in 64 countries, is using new way of working principles to reorganise its branch offices in Germany for its just over 9,000 employees. Alexander Vollert, CEO of AXA Germany, aims to use the NWoW to create an environment which stimulates the development of innovative ideas in the company and simplifies the way people talk to one another. He is the driving force behind a new way of thinking in the company and says: 'We see ourselves as a learning organisation.'
Hamburg became the pioneer of this initiative in late summer 2017. Seven hundred employees moved into their new offices, whose open spatial concept and individual working and creative areas were designed to enable even more customer-oriented working. Oliver Eske, Overall Project Manager NWoW, told us how the first period of the changeover went.
Oliver Eske

Head of Workplace and Infrastructure at AXA Germany and overall project manager of the New Way of Working, played a large part in setting up and implementing the project. We asked him how employees are taking to the new working environment and what difficulties might be lurking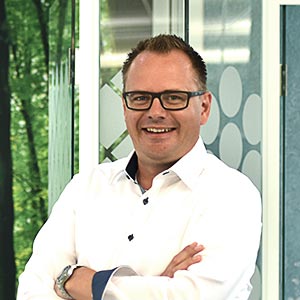 How have your workers taken to the move in general?
Oliver Eske: The conversion was completed in Hamburg in late summer 2017. Generally speaking, the new building and the diversity of new working worlds have been well received. The building offers much better working conditions thanks to the latest building standards. We placed a lot of emphasis on good acoustics as well as ventilation and climate, and this is paying off especially now it's summer. Our big sun terrace, which is linked to the staff restaurant and can be used for meetings, is used a lot. The new building is just a few hundred meters from the old Hamburg office, which means most people travel exactly the same way to work as they used to. But the working atmosphere is completely different. When you enter the offices you get a sense of new beginnings.
Our work@home option is being utilised a lot at all our locations. With the roll-out of the new way of working, employees are now allowed to work at home for up to two days a week. Staff who want to do this are given the technology they need for it. Around 60% of our staff now use this option frequently and work regularly from home.
Has the new office become a home port?
Oliver Eske: Home port is certainly an apt description, because so many employees have taken the opportunity to actively shape the office. From the outset, we intentionally deployed a range of participation formats, because it was important to us that the new office would take into account the needs of our staff. In real terms, employees can express their opinions when it comes to choosing furniture, imagery and room names.
From what I hear, staff feel very comfortable at the new site. It offers a completely new ambience and offers everything from individually designed office and creative areas, all the way to a completely new catering concept with front-cooking, grab & go, coffee lounge and outdoor catering.
The feedback from staff tells us that communication has become easier and quicker, and certain things can now be decided more efficiently. That was one of the major aims of the transformation. The work@home concept is having a positive impact on work-life balance, because people can save themselves what are sometimes very long commutes.
Which new features were immediately adopted into peoples' working lives?
Oliver Eske: The various modules of the office concept are well used. Consultations, for instance, have been shifted to communication areas and are no longer done at desks, and that's how we intended it. People are also making good use of the opportunity to switch off now and again. For this we integrated an 'active and passive recovery' module. Basketball, pool and table football are very popular. The same applies to work@home and new mobile hardware for it.
Were there any areas with teething difficulties?
Oliver Eske: Nobody is entirely free of habit. There are a few employees who use the same workplace every day, even though we want to implement desk-sharing. I think that changing your workplace daily, but being based in a home zone to remain in close touch with your team, is a big opportunity but one which not everyone is taking yet. It allows staff to organise themselves flexibly according to the needs of projects. Moving to a new building also involved technical teething difficulties. At the beginning we had minor problems controlling the heating and ventilation system. We improved the acoustics in some of the rooms. I consider NWoW a living project in which we are learning every time we do a conversion, and making adjustments.
What do AXA's partners and customers say when they come into your offices now?
Oliver Eske: Companies from a range of industries have shown a lot of interest. Some of them have visited us to get to know the concept and our building. We now get so many enquiries about it that we no longer have the capacity to deal with them all. Visitors often tell us they're surprised to see an insurance company with such a modern working environment. Applicants often mention it as well.
'I think changing your workplace daily within a home zone is a great opportunity. Staff can organise themselves flexibly according to the needs of each project.' Oliver Eske, AXA Konzern AG #jobwizards https://km.social/3e6UuY5
Has there been a response among your rivals?
Oliver Eske: Some of our competitors have been here to look at NWoW. The interest remains high and enquiries keep coming. Some of our competitors are planning similar projects and are looking to talk to us about them. Before we began planning and in the later project phases as well, I was always glad to get the opportunity to look at the working environments at other corporates. For example, I got the chance to take look around at Google and XING.
Much of this kind of process involves trying out new things. Were there any friction points? Has there been criticism at the company?
Oliver Eske: What is new is sharing a home base with other teams – teams who sometimes have very different ways of working. Collaborating didn't always go smoothly at first and teams had to get used to the new concept and define new rules for working with one another.
Which aspects of the new Hamburg situation do you want to introduce at every AXA office?
Oliver Eske: Hamburg is our pilot location and we aim to convert all of our offices according to the NWoW principles by 2020. We are moving into new buildings in some places to do this. The experience we've gathered in Hamburg is now being used for the project at other locations.