Leonie Mul-van Lith
Leonie Mul-van Lith works as a Lean Consultant and Trainer at Lean Consultancy Group, which was named one of the best employers in the Netherlands by 'Great Place to Work' for the fourth time in a row in 2018. Due to their growth, they entered in the 'Medium-sized companies' category for the first time this year, and took first place there, too. The aim of Lean Consultancy Group is to help organisations and companies with a lean or agile philosophy to improve their performance and, in this way, to help their employees enjoy more joie de vivre. The simple and effective thinking: inspired employees lead to better business results. But it is only possible to help others in this way if satisfaction is also the order of the day internally. That is why 'Practice what you preach' is an important motto for LCG. But let's allow Leonie Mul-van Lith to speak for herself: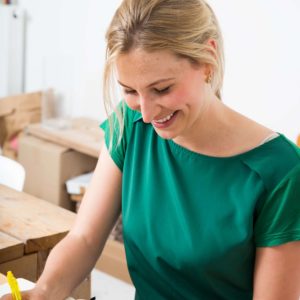 Why did LCG receive the 'Great Place To Work' award?
Leonie Mul-van Lith: I think there are various reasons why we won the prize as a 'Great Place To Work' for the fourth time in a row this year. First of all, there is our mission to increase joie de vivre. We believe that in order to do that, our work must be inspiring. That means we have a strong focus on our employees and their personal development.
Is there something you have established to pamper your employees in their everyday work?
Leonie Mul-van Lith: I wouldn't describe it as pampering them, as the way we work has become normal for us. However, we are grateful for this employer and how they take care of us. I think what makes our everyday work special is the personal attention. For example, every year it is surprising how birthdays and special occasions such as Christmas are celebrated at LCG. We believe that a new employee's first weeks are decisive for making them feel welcome and at home in our organisation. That is why we have a comprehensive onboarding process for all new hires.
Our onboarding process is so comprehensive because we believe that you only get one chance to make a first impression. We therefore feel responsible for giving new colleagues a warm and accepting welcome. Everything needed to successfully start work as a new LCG adviser or trainer, such as a laptop, telephone and other material, is available from the first day.
How do you help new employees adjust to the job?
Leonie Mul-van Lith: Every new colleague receives what we call a 'buddy', that is to say, an experienced LCG staff member, for the first year. This buddy is responsible for providing insight into the daily work of the company, but also provides one-to-one coaching to support the personal development of their new colleague. Other milestones of our onboarding process are participation in an onboarding event with our partners, entry to book clubs to discuss relevant literature, and a visit to the Gemba (interviewer's note: Gemba is a term originating in Japanese, meaning 'the actual place' – in this case, where the actual value creation takes place on the customer's premises. Instead of only becoming familiar with customer meeting rooms, an insight into the working world that is the site of the company's daily activity is provided). They also take part in our lean/agile training.
How is daily business life at Lean Consultancy Group structured? Do you have team-building events over the course of the year?
Leonie Mul-van Lith: It is worth noting that at LCG we do not have an office location. This is because we spend most of our time creating added value in customers' offices as consultants or trainers. We combine this with working from home, and, every second Friday, we all meet in a central location in the Netherlands. On this day, known as 'LCG Day', we focus on the management of our organisation and team building. In this context, we discuss our organisational performance and the progress of projects, we spend time on personal development, share our successes and experiences and attend workshops on learning and growing. Camaraderie is key in our organisation, so we like to end these days by having a drink together. In terms of hierarchy, LCG has a flat structure. Our form of cooperation is characterised by treating each other as equals and everyone being given responsibility. LCG has three partners and two office employees. All the other employees are consultants and trainers with experience in lean and agile working.
Above all, our mission is to increase joie de vivre. We believe our work must be inspiring in order to do that.' Leonie Mul-van Lith, LCG #jobwizards https://km.social/31Yf2gt
Do you see any disadvantages in your efforts to create a 'Great Place to Work' for your employees?
Leonie Mul-van Lith: No, we don't, because we are convinced that our employees are our most valuable asset. We need to take care of them and ensure they enjoy their job. However, that doesn't mean we have no difficulties in creating a 'Great Place to Work'. As a growing organisation, it requires us to continually pay attention to ensuring that we offer a good workplace. In fact, remaining a 'Great Place to Work' is one of our annual aims. This topic requires our full attention, including dialogue with our employees to find out what their needs and concerns are and to implement corrective measures.
What could tempt you from this company to a competitor?  
Leonie Mul-van Lith: To be honest, I really don't know of any reason why I might leave LCG in the near future.