It's also why our innovative Augmented Reality App genARate is helping to shape future thinking of brand managers, ambassadors, creatives and designers. Whereas print-related AR has had a few false dawns over the years, there have now been significant shifts in how people access, view and interact with content in the interim years, especially with the growth of the "millennials and their social media practices and fondness for gamification".
Olaf Lorenz
Olaf Lorenz, General Manager, International Marketing Division, Konica Minolta Business Solutions Europe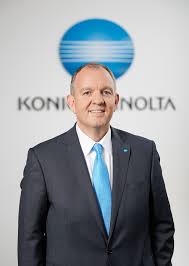 Findings from the International Data Corporation, known as IDC, mirror the research we have undertaken that shows that our combined production print ecosystem and genARate AR app create new, profitable and future-proof businesses for customers.
The report, which is headlined 'Konica Minolta's Augmented Reality App genARate propels print into new dimension', points to our continuous investment in key print market growth engines. Specifically, it mentions our strong presence in office, IT services, industrial and production print markets. We are fully committed to print in all its formats, and genARate weaves perfectly into our production print folio including our dedicated marketing services business.
This AR app provides real-time analytics and feedback on app usage and engagement, enabling brand or campaign managers to make running changes to project-based or dynamic market intelligence. The ability to immediately rework campaigns makes advertising or marketing investments less of a risk as errors, misjudgments, miscalculations and surprises can be addressed on the fly.
The IDC research shows that Konica Minolta has addressed many of the market growth barriers in terms of genARate's ease of use. Brand managers who do not at least begin to review the possibilities of print-related AR, if not completely embracing it, risk being left behind in the race to play competitively in the analog and digital advertising worlds.
You can be sure that AR – with the tagline 'Create, Educate, Engage' within our solution – combined with the creativity and power of digitally enhanced print, as well as high-performance technology, are all key components in our customer-centric approach.
###
About Konica Minolta Business Solutions Europe
Konica Minolta Business Solutions Europe GmbH, based in Langenhagen, Germany, is a wholly owned subsidiary of Konica Minolta Inc., Tokyo, Japan. Konica Minolta enables its clients to champion the digital era: with its unique imaging expertise and data processing capabilities, Konica Minolta creates relevant solutions for its customers and solves issues faced by society. As a provider of comprehensive IT services, Konica Minolta delivers consultancy and services to optimise business processes with workflow automation and implements solutions in the field of IT infrastructure and IT security as well as cloud environments. Konica Minolta was awarded the prestigious "Buyers Lab PaceSetter award for Smart Workplace Vision" from Keypoint Intelligence" as the only vendor in its industry thanks to its forward-looking vision of the future of work and investment in innovative technology. Being a strong partner for the production and industrial printing market, Konica Minolta offers business consulting, state-of-the-art technology and software and, in 2017, was the production printing market leader for the tenth consecutive year in Europe, Central Asia, the Middle East and Africa (InfoSource). The hardware portfolio covers light and mid production as well as industrial printing machines. Konica Minolta Marketing Services provides value added services that intelligently link print and digital marketing in an effective and efficient way. In the healthcare sector, Konica Minolta drives digitalisation of clinical workflows and offers a broad range of next-level diagnostic solutions. Through its Business Innovation Centre in London and four R&D laboratories in Europe, Konica Minolta brings innovation forward by collaborating with its customers as well as academic, industrial and entrepreneurial partners. Konica Minolta Business Solutions Europe is represented by subsidiaries and distributors in more than 80 countries in Europe, Central Asia, the Middle East and Africa. With almost 9,900 employees (as of April 2018), Konica Minolta Europe earned net sales of over EUR 2.37 billion in financial year 2017/18.